24. June 2021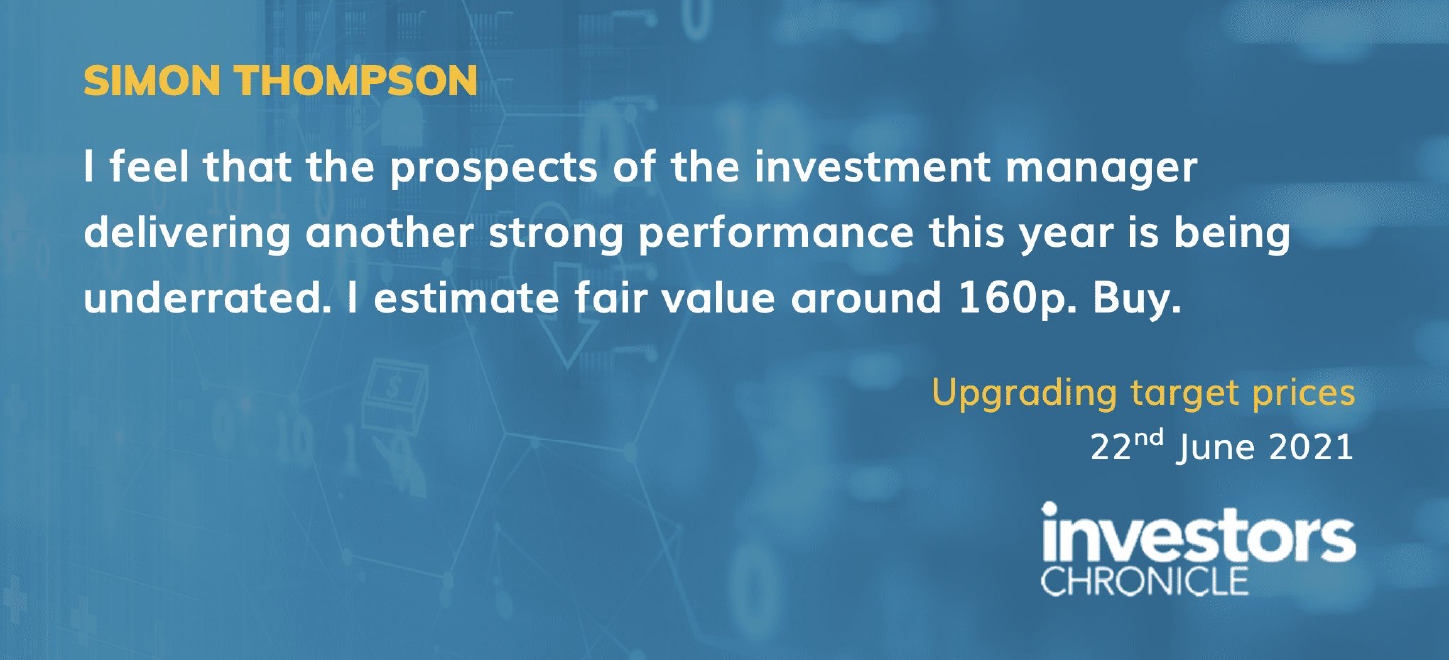 Investors Chronicle: Simon Thompson covers Augmentum in his latest piece
Simon Thompson covers Augmentum in his latest piece "Upgrading target prices" for Investors Chronicle.
"Augmentum cashed up for new investments
Record NAV per share.
Augmentum makes £22.8m investments post year-end.
Portfolio companies raised £185m equity during financial year.
Shares in Augmentum Fintech (AUGM:140p), the first publicly-listed fintech fund in the UK, rallied 24 per cent to an all-time high of 172p after I advised running profits ('Exploiting share price dislocations', 7 December 2020), having included Augmentum's shares, at 102p, in my 2019 Bargain Shares Portfolio. The subsequent pull-back looks a buying opportunity to me and for investors backing Augmentum's £40m latest fundraise (placing, open offer and subscription at 135.5p a share).
In the 2020/21 financial year, Augmentum booked £26.7m of unrealised gains, delivered 12.3 per cent higher NAV of 130.4p per share and an unrealised annualised IRR of 19 per cent. The fund's largest holding, a 3.8 per cent stake in UK investment platform Interactive Investor (ii) has been revalued up by £10.1m to £32.6m, or 8.4 times cost. In 2020, ii delivered 46 per cent revenue growth (significantly ahead of budget) and 56 per cent higher pre-tax profit of £13.9m. Post the year-end, ii acquired investment platform Equinti for £48.5m which boosts assets under administration to £50bn and the customer base to 400,000.
Augmentum also booked £12m of cumulative unrealised gains from its other four largest holdings: Tide, an emerging force in the small- and medium-sized enterprises (SMEs) challenger banking sector that now has a 5 per cent market share and serves 320,000 SMEs; Onfido, a leading global provider of online identity verification that has attracted over 1,500 customers including online bank Revolut and cryptocurrency exchange Bitstamp; BullionVault, a company that offers private investors low-cost access to investment-grade bullion that doubled pre-tax profit to £10.7m in 2020, implying a read-through valuation multiple of 15 times profit on Augmentum's holding; and Grover, the German technology rentals platform Grover that has just raised €60m in a Series B funding round. Augmentum has successfully exited investments, too, banking £10.5m proceeds from Dext (formerly Receipt Bank) which contributed £3m of realised gains.
New investments of interest include VOLT, a leading provider of resilient payment networks using open banking 'rails' as an alternative to traditional card 'rails'; Epsor, a company that has developed a next generation workplace savings platform in France, providing facilities for both pension contributions and a tax advantaged bonus savings scheme; and Cushon, a company that is targeting a parallel workplace savings opportunity to Epsor but with focus on the UK market.
Priced on a modest premium to a conservative looking NAV, I feel that the prospects of the investment manager delivering another strong performance this year is being underrated. I estimate fair value around 160p. Buy."
Read full article here (behind paywall)