Investment trusts explained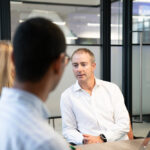 How does an investment trust work?
The AIC (The Association of Investment Companies) explains in this video
An investment trust is a public limited company, traded on the London Stock Exchange
It invests in other companies (in Augmentum's case, private fintech companies) with the aim of generating a profit for its shareholders. A trust allows an individual to invest in a range of companies, as well as bonds, property or other assets, through a single investment trust.
As it is a public limited company, an investment trust is owned by its shareholders – its investors – who elect an independent Board of Directors who in turn look after its shareholders' interests. The Board chooses a professional fund manager – Augmentum Fintech Management Ltd is the manager of Augmentum Fintech plc – to run the investment trust day-to-day, decide where to invest the money held by the trust and when to sell its holdings.