Overview
Investing in a focused portfolio of fast growing and transformative private fintech businesses in the UK and wider Europe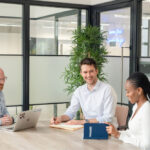 Fintech founders
Our specialist investment platform and experienced team with 100+ years' experience have been built to identify and invest in outstanding private fintech businesses at early stages, ahead of significant potential growth.
Offering rare exposure
As early investors we participate in the shareholder value creation that the scaling of our portfolio companies generates while they are still private and offer public market investors rare exposure to these growth journeys in fintech.
To a diversified portfolio
Our current portfolio of 24 high potential private fintech companies is diversified across the fintech ecosystem and stages of maturity, generating a pipeline of exit opportunities with depth. Investments include Tide, Zopa, Grover, Onfido and Monese.
And a strong pipeline
We are excited about the journey that lies ahead with our existing portfolio and have strong additional opportunities under active development in our pipeline.
Net Asset Value
NAV before performance fee, NAV after performance fee is £273.4m
IRR
Gross IRR on capital deployed since inception arising on investment cash flows and using valuations at the last period end
Live share price information