09. May 2022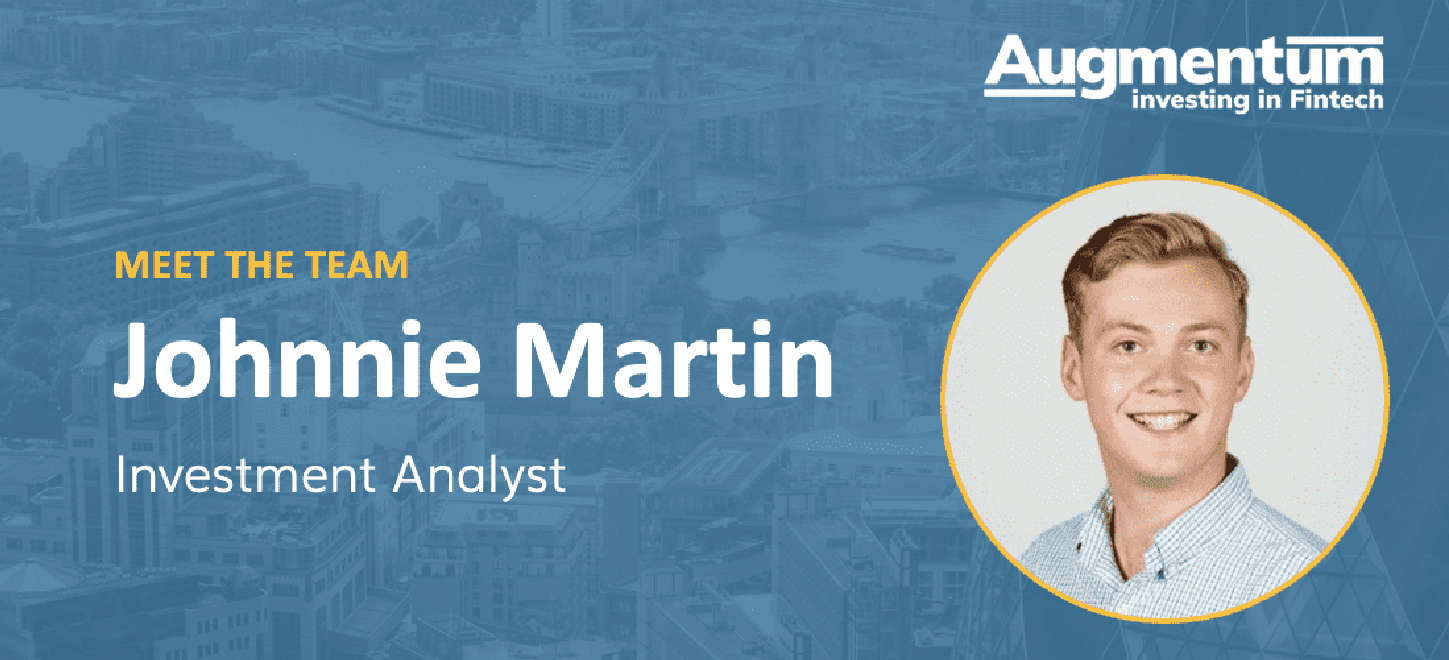 Meet the team: Johnnie Martin
We are delighted to welcome Johnnie Martin to our Investment Team. Learn about where his passion for venture originated, the Augmentum portfolio company he'd work at if he had the choice and what energises him outside of work in our latest 'Meet the Team' feature.
Why did you choose to join Augmentum?
There were many reasons I chose to join Augmentum, firstly the excellent team, they have built a really strong and diverse portfolio over the last few years, and I am really looking forward to helping this grow. I believe the entrepreneurial experience and calibre of the team allows Augmentum to add real value to its portfolio companies. I was also really drawn to the fintech focus, this is an area I am truly passionate about and there are so many opportunities for potential growth. Augmentum's stance as a responsible investor was also important to me, I find it impressive that the company is now carbon neutral and integrates ESG throughout the investment process.
What are you going to be doing in your new role?
I am joining Augmentum as an Investment Analyst so will be helping the team with many different aspects of the investment lifecycle. From researching new sectors and industries that may present an investment opportunity, to performing due diligence on specific companies and also supporting the existing portfolio base. I expect my role to be varied and fast-paced and I am extremely excited to work with and learn from the team.
Where did your passion for VC originate?
When I was at university I wrote my dissertation on the potential effects that Blockchain could have on financial statement audits. I found the research process and the potential of the new technology fascinating. This also happened to be the time that challenger banks such as Monzo and Revolut were starting to really gain traction and cryptocurrencies were becoming more mainstream. I found all of this really exciting, particularly when my research showed how technological developments at start-ups could disrupt the status quo. Since then I have always had a real desire to work with cutting edge companies in VC.
What is it about the fintech industry that you find exciting?
Financial services permeate all aspects of life and are essential to people all around the world, so working in the fintech industry gives firms the opportunity to have a genuine positive impact on people's lives. Having worked on banking audits in a previous role, I am really excited by the change and improvements that new fintech firms can bring to both retail and investment banking. Both on the front-end from a retail consumer point of view in making products and services better, more transparent and easier to use and also from an infrastructure and tooling perspective that will aid efficiency across the whole ecosystem.
I find the potential for fintech companies to make real differences to how people live their lives super exciting. It also gives small startups the opportunity to disrupt but also work with large financial institutions.
If you could work at one of the Augmentum portfolio companies, which would it be and why?
Habito is a really impressive startup, they are a great example of a company that is making the experience for consumers much easier while also making the mortgage industry more transparent. A house is the biggest purchase that most people will make in their lives and improving this historically lengthy and confusing process is already having a real impact. They are also a B-corp which is something that really resonates with me and shows their commitment to building a better financial services industry for the future.
What's the best book/podcast you read/listened to in the last year (and why)?
I tend to listen to crime and fantasy fiction while I run and read non-fiction books. The best book I have read recently is Humankind: A Hopeful History by Rutger Bregman. I would really recommend it to anyone looking for a positive and uplifting spin on human history. I have just finished reading Invisible Woman by Caroline Criado Perez which is an incredibly well researched and eye-opening book, there is so much to be learnt and improved on and I would recommend it to everyone!
On the fiction side, I really enjoyed listening to Dune which I felt I had to race through before watching the film.
What energises you outside of work?
Since moving to London I have become a keen (but slow) runner and cyclist, I love running for clearing the head and exploring new parts of the city. I ran the London Marathon last year which was such an incredible experience. I find escaping London to cycle in the countryside incredibly therapeutic and great for catching up with friends.
What is something that people may be surprised to know about you?
I am a really keen cook, experimenting with new recipes was a big part of lockdown for me. I love Asian cooking, inspired by visiting my parents in Singapore where you can try all of the region's best foods in the bustling Hawker food markets. East by Meera Sodha is one of my favourite recipe books and I'd recommend it to anyone who wants a great range of accessible recipes to try.
Get to know the rest of the team here.